Pistachio-Crusted Lamb Chop with Minted Zucchini, Pistachio Pistou, Feta Cheese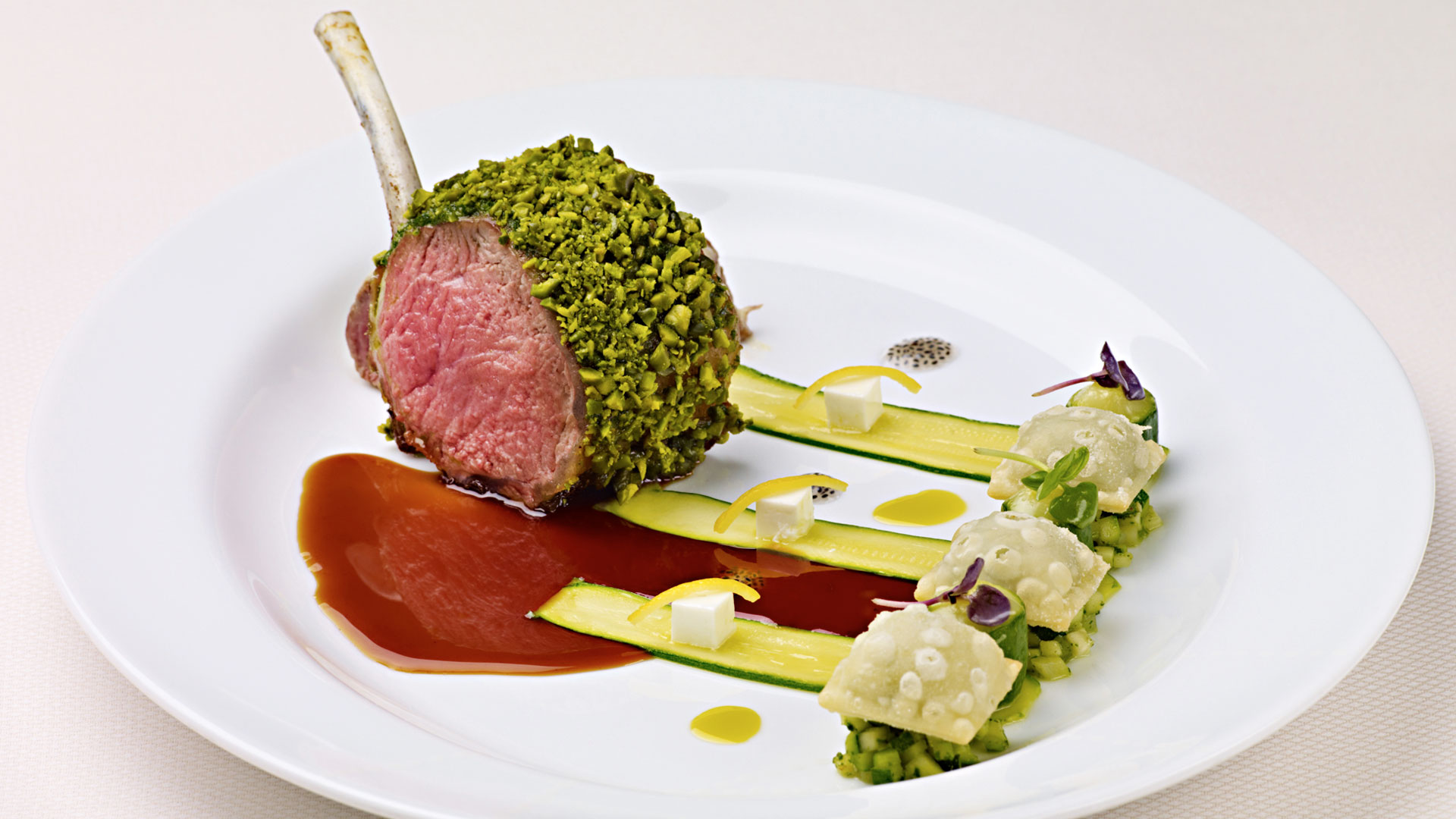 出品量
4 servings
原料
Pistachio Pistou
1 large bunch Basil, leaves only
½ bunch Mint, leaves only
2 tablespoons Pistachios
1 tablespoon Parmesan cheese
1 clove Garlic
Olive oil, as needed
Garnish
8 Baby zucchinis
½ pound Feta cheese, cut into ¼-inch cubes
1 (1-inch) piece Preserved lemon skin, cut into thin julienne
Salt and ground white pepper
Lamb Rack  
2 Racks of lamb, trimmed and Frenched
2 Thyme sprigs
2 cloves Garlic, crushed
2 tablespoons Dijon mustard
½ cup Pistachios, crushed
To Finish
1 cup Lamb Jus or Demi Glace
2 Mint sprigs
4 tablespoons Basil seeds, boiled until tender in simple syrup
Baby opal basil
Pistachio oil
步骤
Pistou
Bring a pot of salted water to a boil and place a bowl of ice water on the side. Boil the basil and mint leaves for about 30 seconds and then shock in the ice water. Squeeze the leaves dry and transfer to a blender; puree with remaining Pistou ingredients until smooth; reserve.
Garnish
Slice 2 baby zucchinis lengthwise into thin strips. Cut the tops from remaining 6 zucchinis into (12) 1 ¼ -inch tall cones. Brunoise remaining zucchini bottoms. Bring a pot of salted water to a boil and place a bowl of ice water on the side. Blanch the brunoised zucchini and cones until tender; chill in ice water and set aside. 
Lamb Rack
Preheat oven to 350 degrees F. When ready to serve, heat a large sauté pan with olive oil, thyme and garlic and sear the lamb racks on all sides, constantly basting the meat with the oil.
Transfer to the oven and cook to medium rare (130 degrees F. internally). Increase the oven heat to broil. Transfer the rack of lamb to a baking sheet and brush it with Dijon mustard. Roll the rack in the crushed pistachios to coat, and place it under the broiler for a few seconds until the pistachios begin to turn golden. Rest the meat for 5 minutes before slicing.
To Plate
Transfer lamb jus to a small saucepan and add all of the lamb drippings and two sprigs of mint. Bring to a simmer and keep warm.
For each serving, place two slices of lamb rack on one side of a heated dinner plate. Arrange three slices of zucchini horizontally through the middle. Place a square of feta cheese, topped with a slice of cured lemon, in the center of each zucchini slice. Toss the blanched brunoised zucchini with the pistachio pistou and arrange in three small mounds at the other end of the sliced zucchini. Top with a leaf of baby opal basil. Garnish the plate with a few drops of pistachio oil and minted lamb jus.